Welcome back to TeamAware's newsletter! Here's a summary of what we have achieved in the last three months.
We held our initial TeamAware consortium plenary meeting on September 10th, 2021 and WP2 Technical Co-creation workshop on September 8th, 2021. As you might guess the meetings took place virtually due to COVID. However, as we have all adapted this new working paradigm we had fruitful and interesting discussions.
From a technical perspective, inline with the timeplan, we mainly worked on WP2 System Architecture Specification and Design. The achievements are as follows:
Task 2.1. Analysis of the strategic and operational context: This task gives an overview and analysis of the emergency management in Europe based on a detailed description of seven European countries (Turkey, Romania, Portugal, Ireland, Greece, Denmark and Austria) who represent together a picture of the emergency management in Europe as a whole. The deliverable is a comprehensive literature analysis conducted by RAN and supported by the end users in the consortium who were interviewed on the structure in their country, delivered relevant protocols, procedures and literature and reviewed their country profiles. This overview is the basis for the scenarios which will be developed and presented in Deliverable 2.5 for the demonstrations and validations in work package 13 and is a background document/knowledge base for the researchers in the tools development work packages 3-11.

Task 2.4 TeamAware platform software architecture design: Conceptual platform architecture and software design represents the first conceptual iteration of the main integral software platform in the TeamAware ecosystem. Based on the technical data provided by the TeamAware project partners and careful consideration on the project parameters, the partners from Fraunhofer EMI developed iteratively an initial architecture and design document for the operator front-end, the data fusion module and the database within the software platform. In a close working relationship with Task 2.1 and Task 2.5, the results of those tasks have been considered during the development. This initial work has been documented in deliverable 2.2 to function as a foundation for the upcoming work packages and tasks which rely on these initial thoughts with further refinements planned throughout the project.

Task 2.5 System architecture and communication network design: This task has collected the main functional and non-functional requirements about the different systems involved in the TeamAware ecosystem. After taking into account specific considerations in relation to the physical parameters of the devices, their technological stack, the size, format, limitations of the data and their processing, and the way they communicate with external entities, it has been possible to shape with first responders the specific changes to the subsystems to better fit their needs and, in the long term, to achieve a tighter integration through the TeamAware platform. This work has been consolidated into deliverable D2.3, which also evaluates the targeted integration level of each subsystem into the overall TeamAware platform by the end of the project.
November 2021 is a very crucial month for our project. The vertical technical workpackages (WP3 to WP11) have started. All workpackage leaders organized their Kick-off meetings and monthly regular meetings. We will keep you posted about our progresses.
On the other hand, we were very active in out dissemination activities. We have participated to the following conferences and presented our TeamAware project.
European Emergency Number Association 2021 Conference
Dr. Turhan Sofuoglu and Dr. Zeynep Sofuoglu from AAHD team participated to European Emergency Number Association 2021 Conference (EENA 2021, 6-8 October 2021, Riga, Latvia) and presented TeamAware project.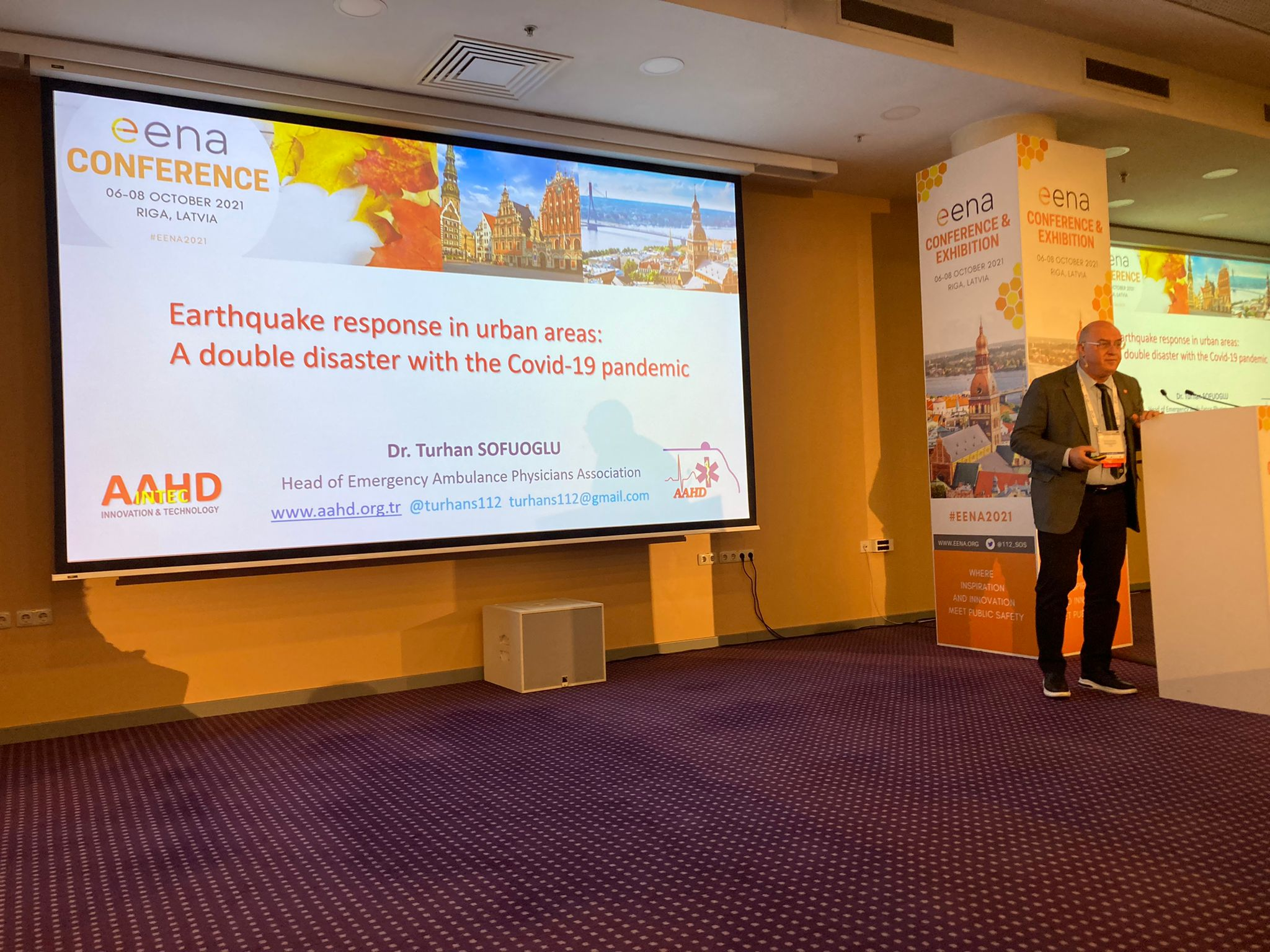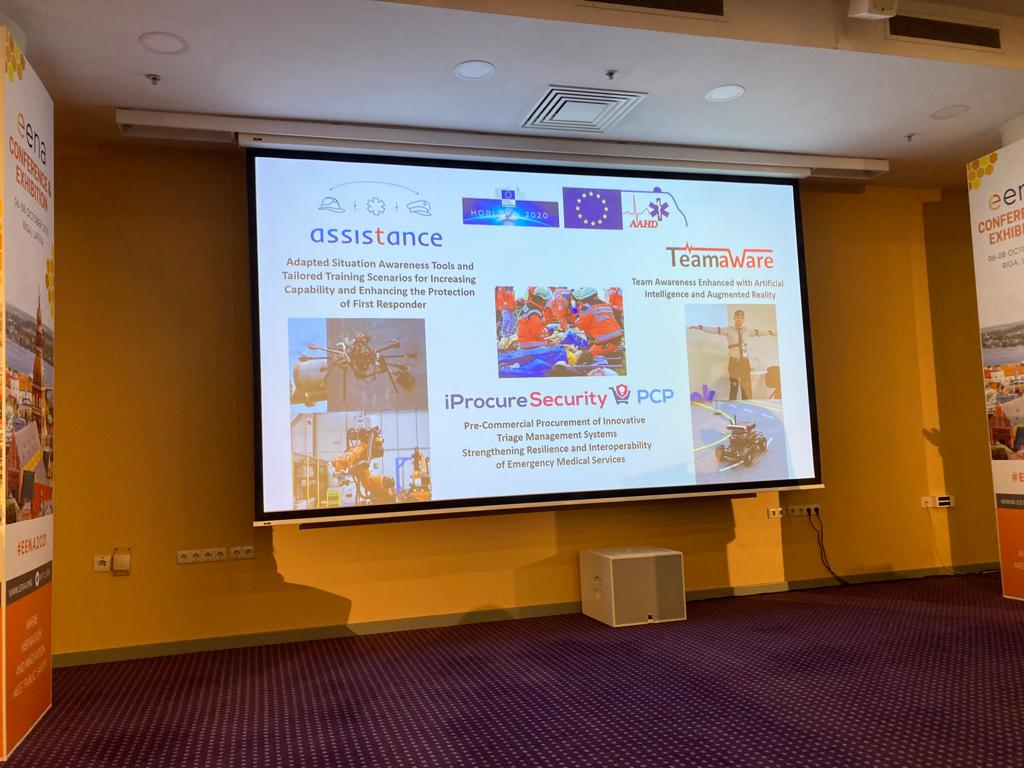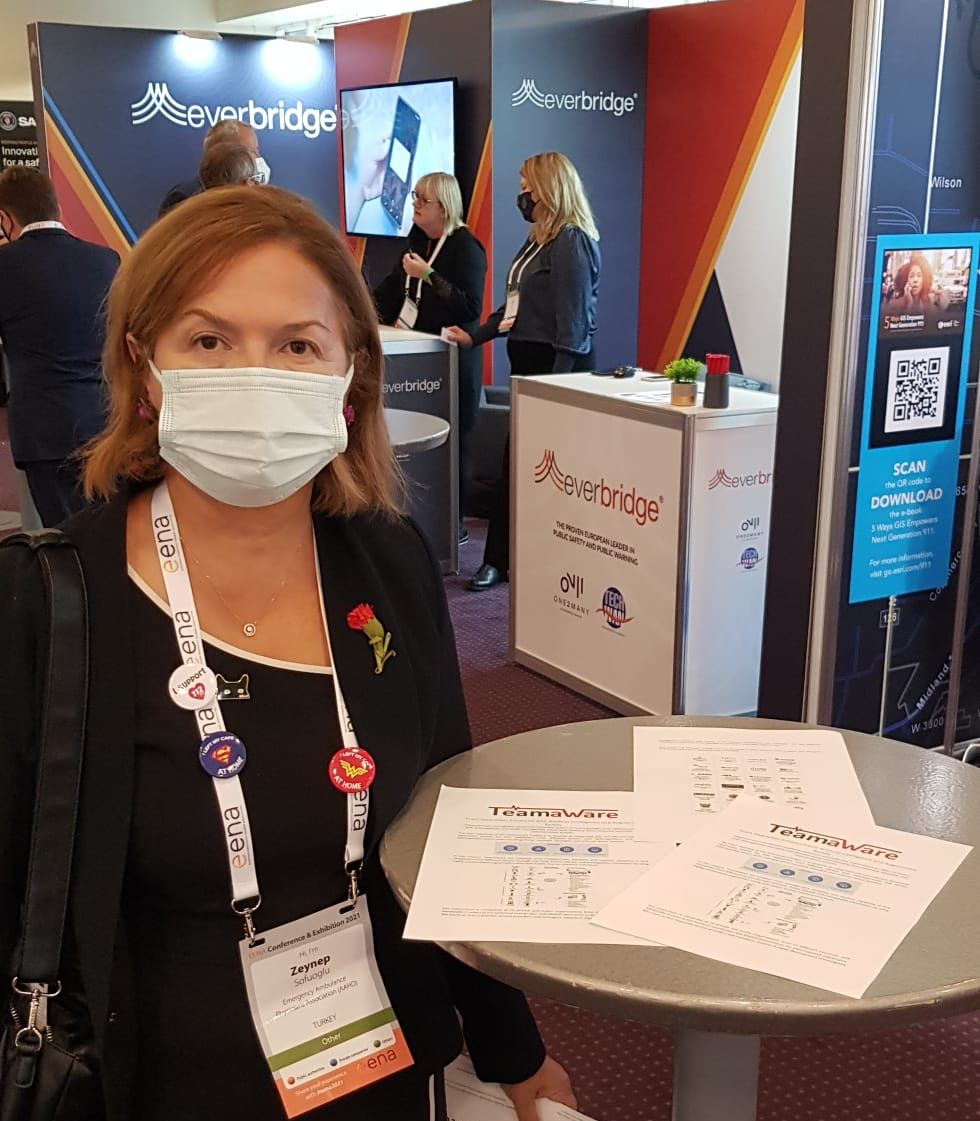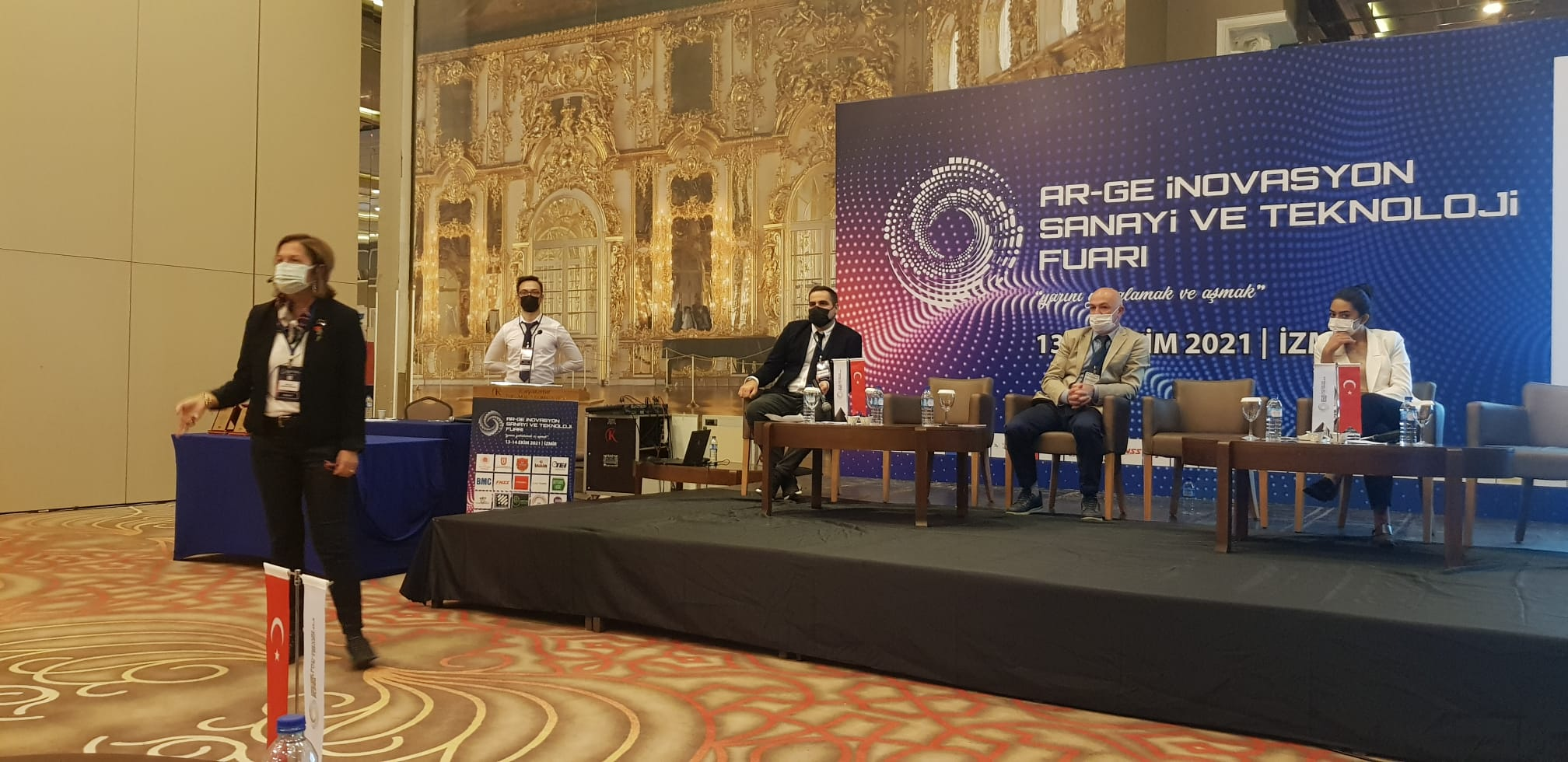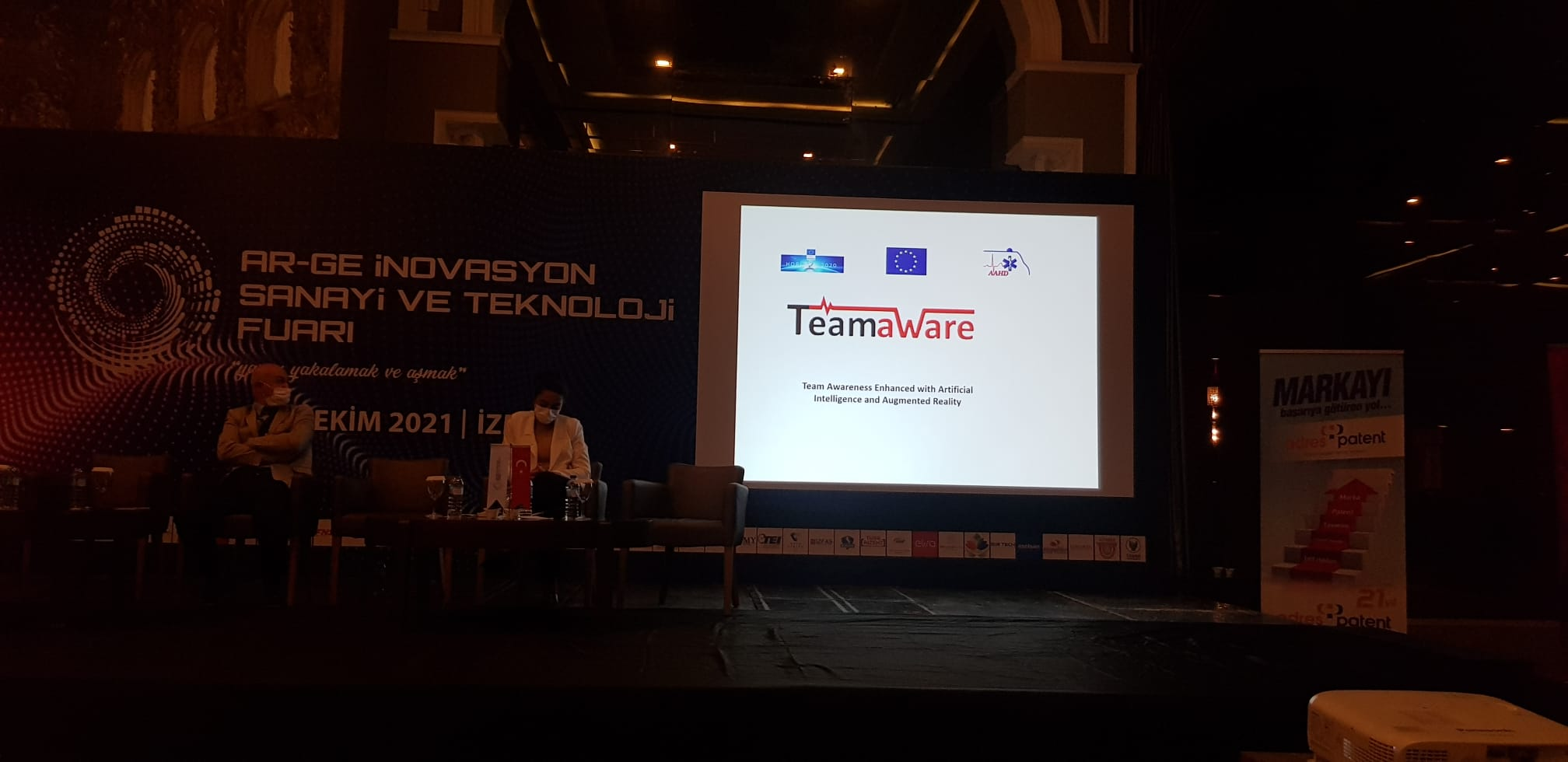 Milipol Paris 2021, 19-22 October 2021, France
Our partner DUNE presented TeamAware project at Milipol 2021 event in Paris on 19-22 October 2021. They used this event successfully for both dissemination and exploitation activities. They contacted around 20 executive-level-only contacts that showed a tangible interest toward TeamAware. We believe this will add great value to our commercialization opportunities.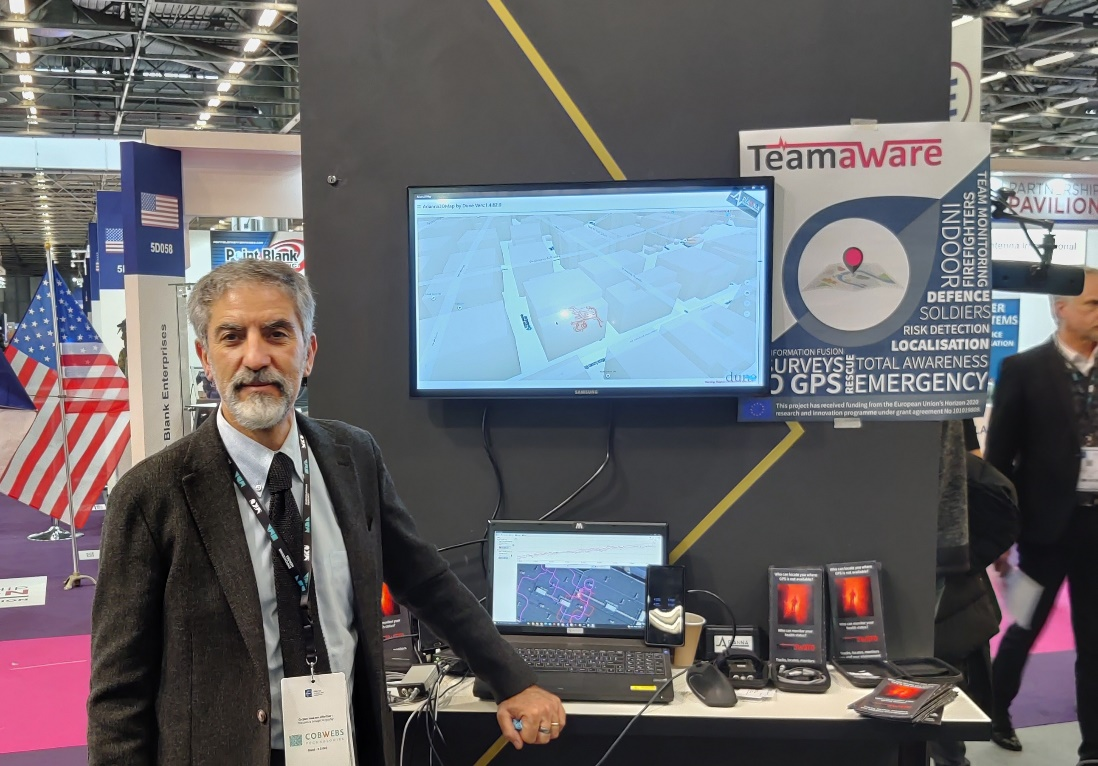 They also demonstrated the first (to our best knowledge) tracking of a dog of a K9 unit, performed with the equipment that will be the basis of TeamAware WP7 indoor localization tasks.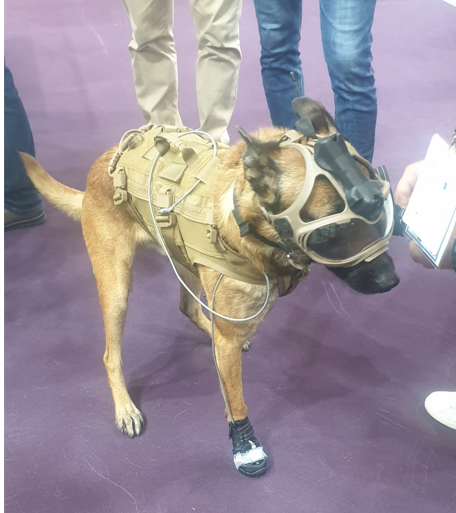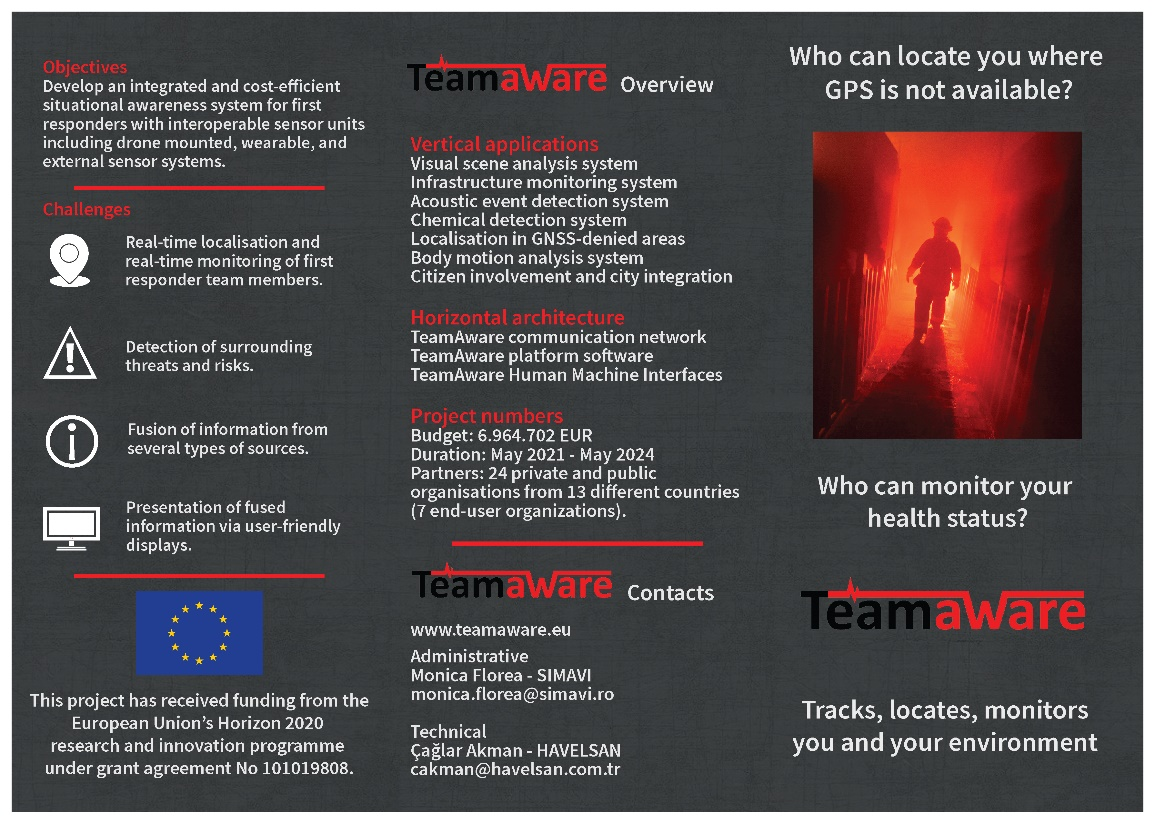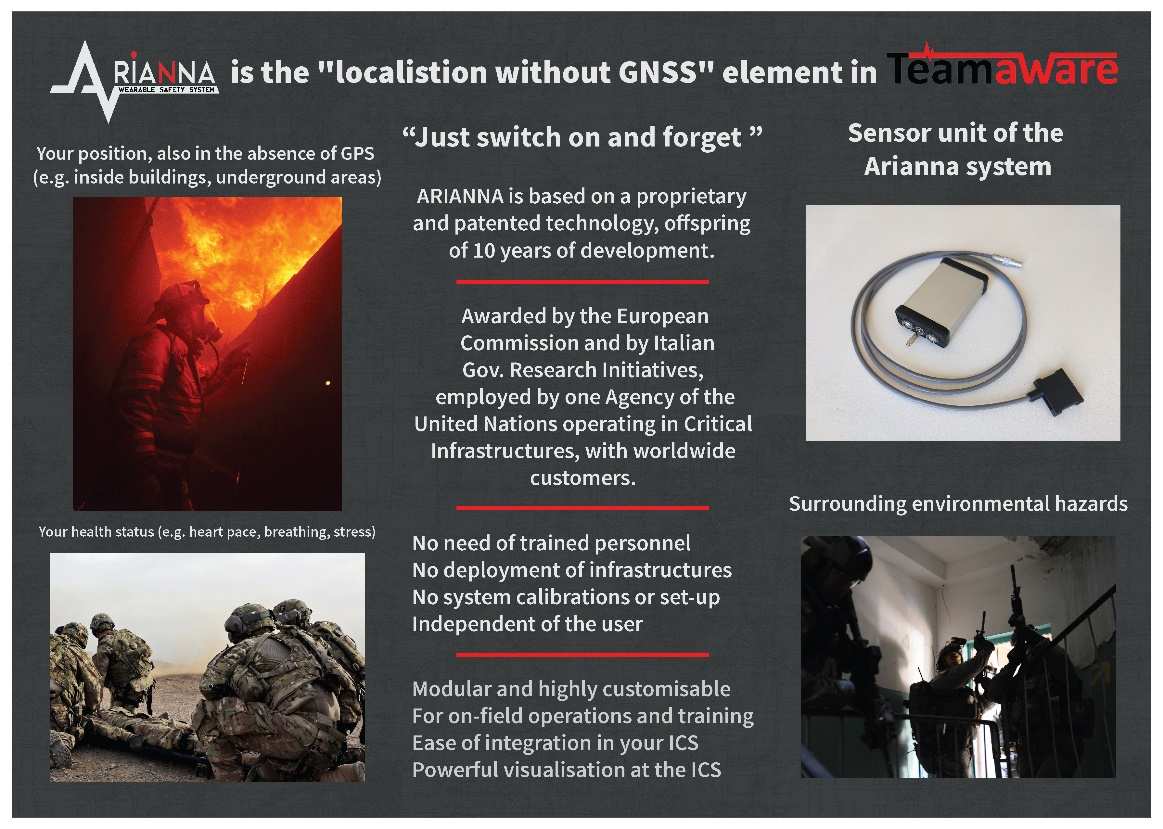 European Emergency Medicine Congress 2021 – Eusem
On 27-31th October 2021, Marietta Pateinioti, Stylianos Xeniadis from Hellenic Society of Emergency Prehospital Care (HSEPC) presented our project at EUSEM 2021 congress in Lisbon Portugal.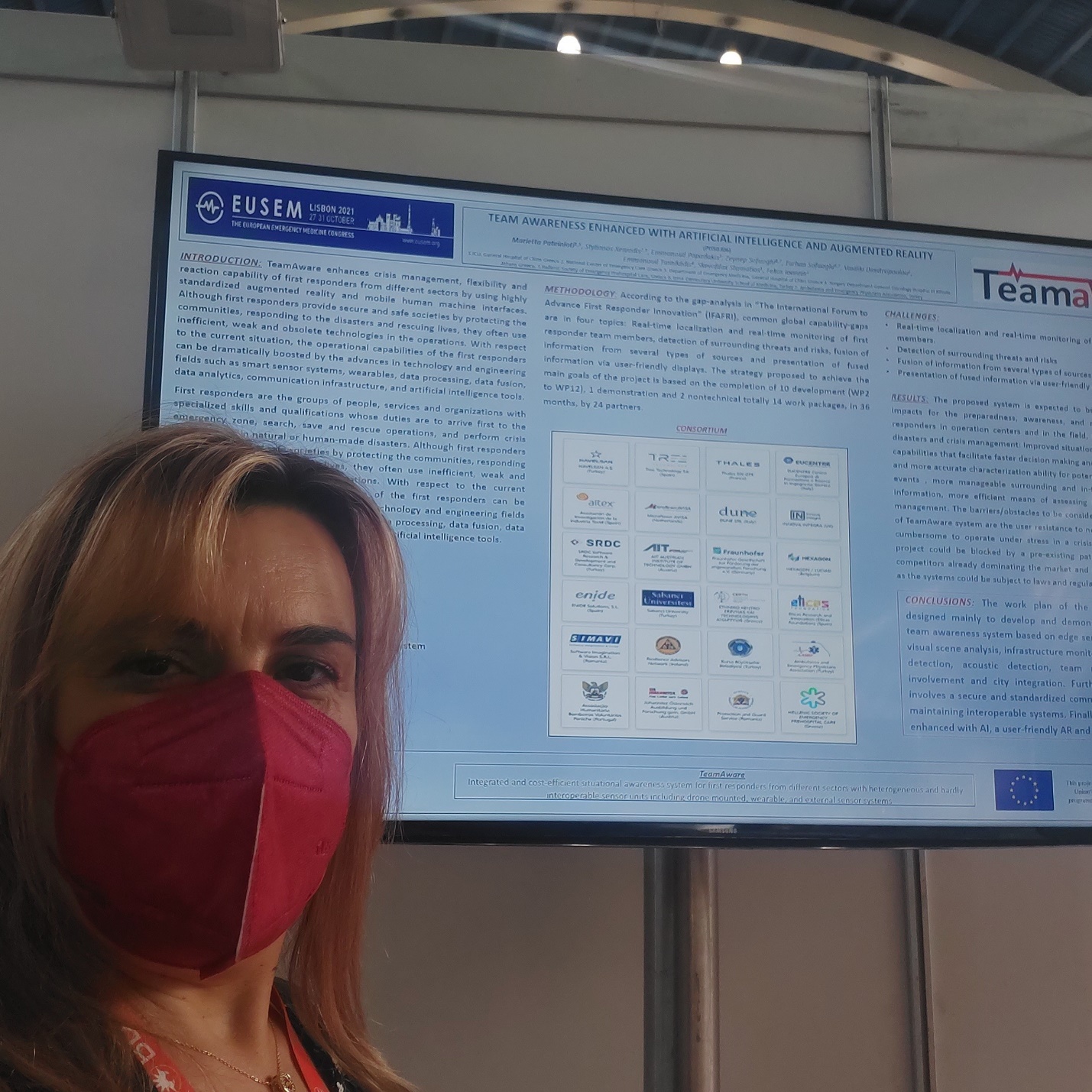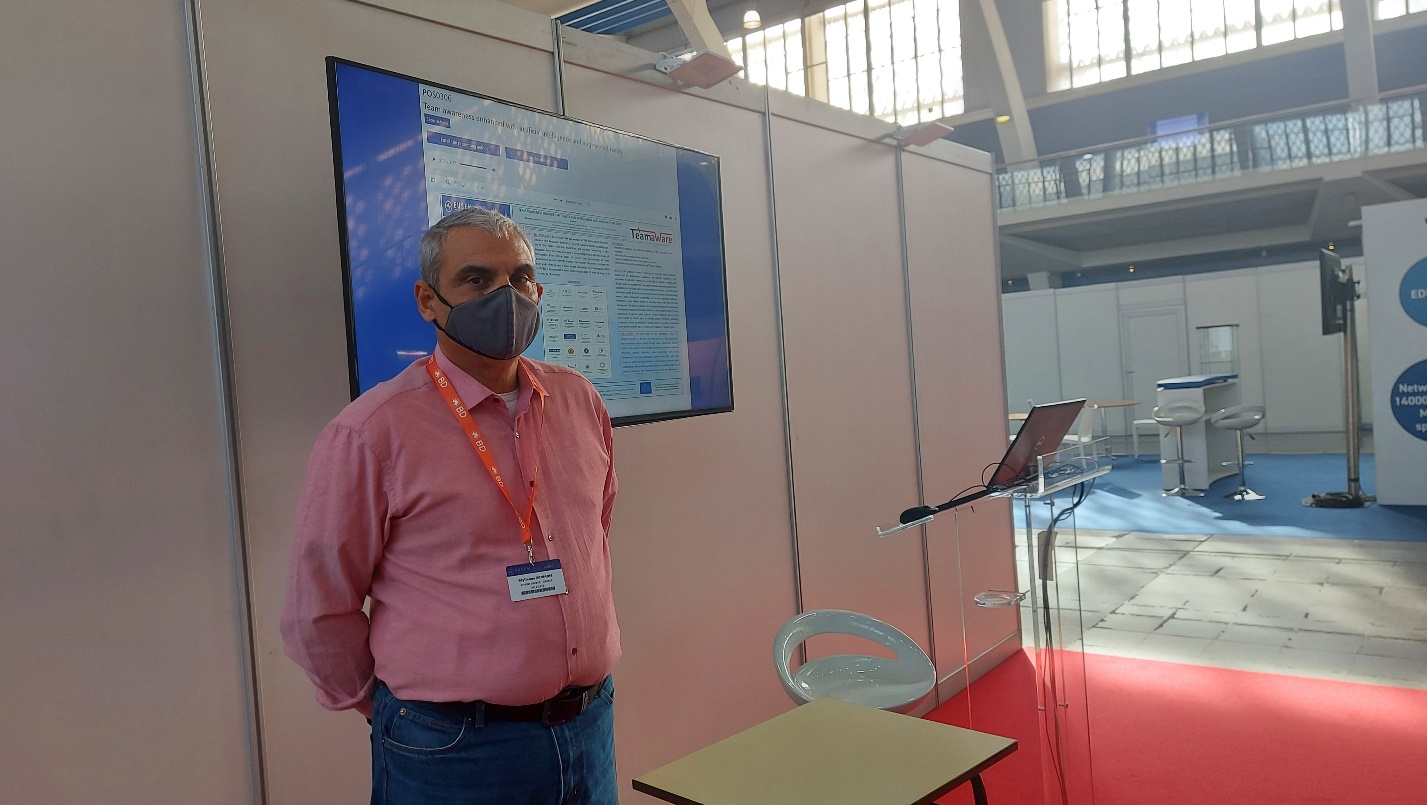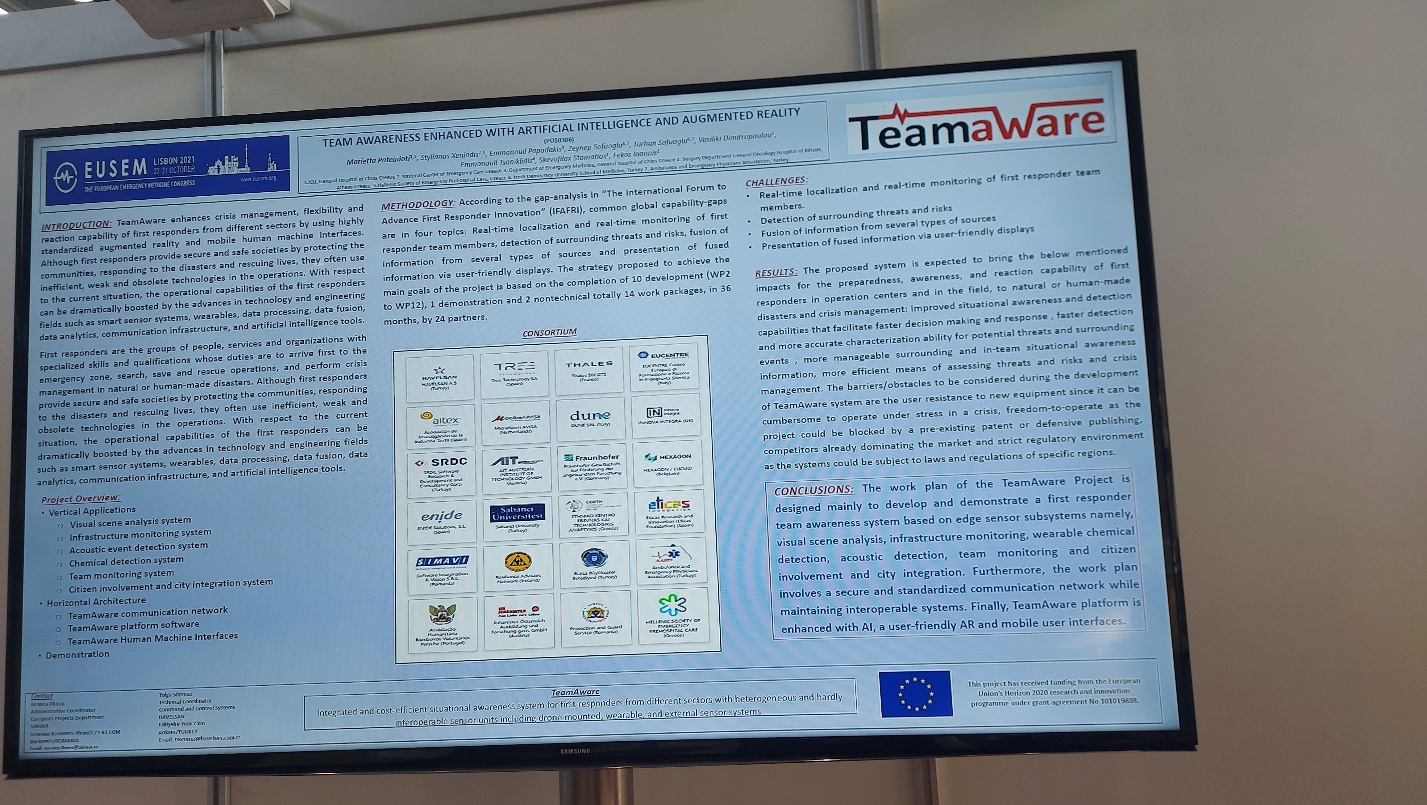 We will continue to update you on our exciting development activities, so look out for more information about how TeamAware is progressing in future issues of our Newsletter!